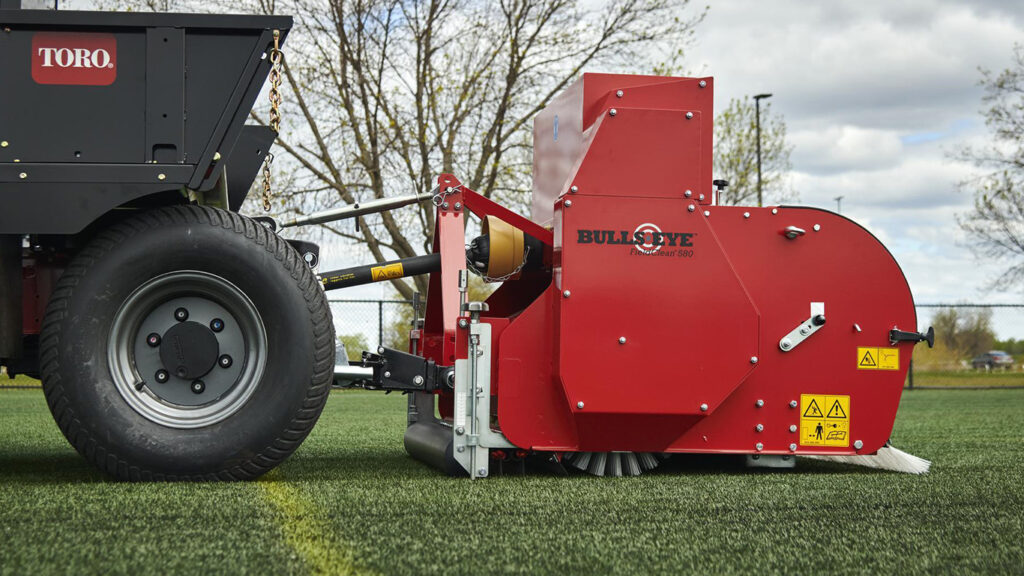 Bullseye FieldClean™ 580
Regular cleaning of synthetic turf is necessary to keep playing surfaces draining properly, in optimal playing condition, and maximize their useful life. The Bullseye FieldClean 580 utilizes a row of spring tines that first loosen infill materials, embedded debris, hair, and other fine materials up to a depth of 1" (2.5 cm). A highly effective, counter-rotating synthetic brush then lifts the debris and top layer of infill material from the turf and onto the adjustable angle vibrating sieve, allowing infill material to return to the field surface while debris, dust, and hair are collected. The rear brush re-incorporates the infill material and leaves a freshly groomed surface.
The Bullseye FieldClean™ 580 is an all-in-one synthetic turf cleaner.
This is the NEW Bullseye FieldClean 580 in action on Valley High School's synthetic turf sports field in Gilcrest, CO. When we arrived, the field was full of pine needles, trash, and dust. When we finished, it looked like new!
The high-flow vacuum provides superior cleaning of synthetic turf fields

Effectively removes and collects hair, dust, and other fine particles

Decompacts and grooms synthetic surfaces for improved playing conditions and field appearance

Highly productive: 189,875 square feet per hour (17,640 square meters per hour) at 7.5 mph (12 km/h)